Gombe State Commences Physical verification and Data Collation.
Gombe State Commences Physical verification, Additional Data Collation of Prospective Beneficiaries, Sensitization and Stakeholders Engagement for the At-Risk Children Project (ARC-P) with Kwami Ward, Kwami Local Government Area.
In accordance with guidelines from the Office of the Special Adviser to the President on Social Investments (OSAP-SI), the National Facilitating Office of the At-Risk Children Project (ARC-P), the Special Adviser on Human Capital Development to the Executive Governor of Gombe State, Barr. Sani Ahmad Haruna, who is also the State Project Coordinator, accompanied by the State ARC-P Project Implementing Team (PIT), have kicked off physical verification, additional data collation of prospective beneficiaries, sensitization and stakeholders engagement in Kwami Ward, Kwami Local Government Area of Gombe State.
The Gombe State ARC-P PIT proceeded by identifying Barema centres along Kwami, Gadam and Bojude axis where thousands of vulnerable children are being enrolled into the ARC-P beneficiaries list.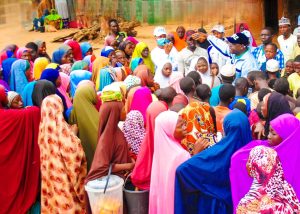 While in Kwami Ward, the ARC-P PIT paid a working visit to the District Head of Kwami, Alh. Musa Abdu at his palace. In his opening remarks, the Project Coordinator thanked His Excellency, Alh. Muhammadu Inuwa Yahaya, Executive Governor of Gombe State, for finding him worthy to serve in such capacity. He added that the data collection, mining and verification exercise was earlier communicated to the Honourable Chairman of Kwami LGA who was urged to share the content of the letter to key community leaders for their cooperation.
Barr. Sani noted that while Gombe State is the first State to pilot ARC-P, Kwami LGA is equally the first local government area in Gombe State to pilot the Project. The choice of Kwami is apt and timely due to the number of vulnerable children exposed to seasonal risks of Barema and other forms of child labour and abuse. He sought for continuous cooperation from traditional and religious leaders as key stakeholders in achieving high impact project implementation across the State.
In his response, the District Head welcomed the Project Lead and his team and expressed his appreciation to them for according the desired respect to the traditional leaders being the custodian of the people's culture, and as gate keepers in the community. He went further to appreciate the Project Lead for choosing Kwami as the Pilot LGA, while pledging to give his maximum cooperation towards the success of the project.
The Gombe State ARC-P project team is expected to visit all the 11 LGAs across the state in weeks to come to carryout similar exercises in order to ensure that every LGA is catered for by virtue of their children vulnerability index.
Bright Eugene
Communications Officer
At-Risk Children Project